Author:
Manuel Lemos
Posted on:
2008-06-18
Categories:
New site features
The PHPClasses site is launching a new job board dedicated to announce jobs specifically for PHP professionals.

This new PHP job site allows companies to reach a large number of professionals with specific PHP skills eventually taking less time and money to find qualified professionals to fill their job openings.
Contents

- PHP professionals in high demand

- Dedicated PHP job site

- Fast request for professionals with PHP specific skills

- Broad reach of job postings in the PHP community

- Easy contact with PHP job candidates

- Job post pricing and payment

* Urgent and regular job posting credits

* Premium job post discounts

* Job recruiter bulk discounts

- Upcoming improvements

- PHP professionals in high demand

PHP is a very popular language in part because it evolved very quickly to address the needs of Web site development, since the early days of the Web.
The popularity of PHP is the cause for the great demand of qualified PHP professionals for taking jobs in PHP Web development and related activities.
On one side, this is good news for the PHP community. On the other hand, great demand also means that businesses are having an hard time finding qualified PHP professionals. Therefore, there is a great need to make the task of finding qualified PHP professionals something that does not take too much time or money.
Michael Kimsal, a reputed PHP consultant and well known blogger that has a podcast on Web development, has just released a book published by Marco Tabini's PHP-Architect publishing company. The book is named "PHP Job Hunter's Handbook". It is precisely all about the PHP job market matters.
I will post a review of that book later. Meanwhile, you may find more about this book and Michael thoughts on these matters in a blog site dedicated to this topic:
phpjobbook.com/
- Dedicated PHP job site

Having perceived this extraordinary need for qualified PHP professionals, in the latest months the development of the PHPClasses site has been focused in making it easier for businesses to find PHP professionals.
Last November the site launched the PHP professionals directory, as it was announced here:
phpclasses.org/blog/post/71-Launche
...
This directory has been growing at a fast rate. Currently, it has over 2,100 professionals available for taking PHP jobs in 124 countries.
phpclasses.org/professionals/
This is great but it is not enough. All those professionals may be available, but not immediately. It would take a lot of time and effort to query each professional one by one to check which is available right now.
Therefore, the PHPClasses site is launching a complement to the PHP professionals directory. It is new job site dedicated exclusively to post PHP jobs. Actually, it is not a separate site, but rather a new section of the PHPClasses site:
phpclasses.org/jobs/
- Fast request for professionals with PHP specific skills

This new PHP job site was not meant to compete with other job sites. It was rather meant to provide an additional means for companies to reach PHP professionals available for hiring. Companies looking for PHP professionals are still recommended to post their jobs in as many places than they can afford.
Anyway, as you may have already noticed, this PHP job site is something beyond regular job sites. There are some features that make it more efficient to post PHP specific jobs when compared to job sites that are meant to announce generic jobs.
One thing that you may notice in the job posting page is that it has form with multiple tabbed pages. One of the pages is for the job poster to optionally specify which PHP specific skills the candidates must have.
phpclasses.org/post_job.html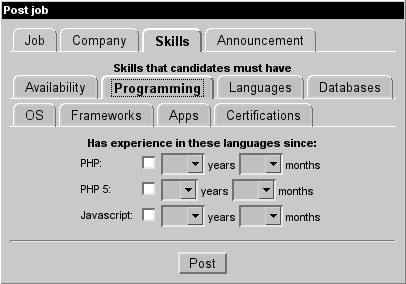 A company posting a job may still describe the job requirements in detail in a free text field. But using the skills page the site will be able to automatically tell the job candidates whether they have the require skills. If a candidate does not have those skills, he may not apply to the job.
This is good because the company that posted the job will not be bothered with reading piles of resumes from job candidates that do not match their at least part of the required skills.
It is one of those situations when less is more. Less resumes from candidates that do not have the necessary skills, is more for free time for recruiters seeking the right person for the job.
A company that still wants to get all the resumes of candidates, even from those that do not qualify, may still do it. Just do not specify any skills in the job post skills page.
- Broad reach of job postings in the PHP community

When a job is posted in this site it automatically reaches a significant number of PHP professionals, which is the target of PHP jobs: qualified PHP professionals.
The first level of PHP professionals that the job posts reach are those listed in the PHP professionals directory. Most of them have joined the directory with an option set to receive e-mail notifications when a new matching job is posted.
If you are a PHP professional looking for PHP jobs and you have not yet joined the PHP professionals directory, you may want to do it now by going to this page:
phpclasses.org/professional_profile
...
After you fill in your basic professional profile details, you should proceed to the page where you specify your PHP related professional skills:
phpclasses.org/professional_skills.
...
A professional looking for PHP jobs does not need to list himself in the directory to be aware of new PHP jobs of interest. In the main jobs listing page there is a link to subscribe to RSS feeds of the latest jobs:
RSS 1.0
phpclasses.org/jobs/latest/latest.x
...
RSS 2.0
phpclasses.org/jobs/latest/latest.r
...
Other than this, the site will be using advertising spots in the site Web pages and newsletters to announce the new jobs.
Currently the site has now about 620,000 registered users. It grows at a pace of over 11,000 new users per month. Of all those about 250,000 are considered active, i.e. have came to the site recently or receive at least one of the content newsletters the site sends at least once a week.
The site visitor rate is also significant. It fluctuates between 15,000 and 20,000 unique visitors per day, or about 500,000 unique visits per month.
All these visitors are precisely PHP developers looking for ready to use PHP components. Many of these developers are looking for PHP jobs. So the site is very well targeted to post PHP jobs.
- Easy contact with PHP job candidates

Once a job is posted, the candidates may start applying. For each candidate that applies to a job, optionally, the site sends an e-mail message notification to the company that posted the job.
If the company is not interested in getting e-mails for each candidate that applies to the job, they may still follow the candidates that applied right from job posting page.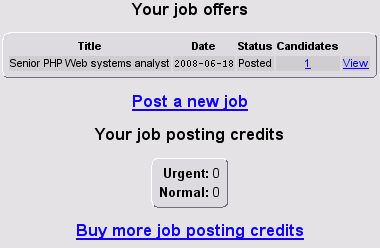 That page shows statistics about how many candidates applied and can check the candidates professional profile, get the contact e-mail address, download the resume files.

- Job post pricing and payment

Posting a PHP job in this site has several benefits that are of great value to businesses looking for PHP professionals. Therefore this service is provided at a reasonable cost.
The actual prices may vary over time, according to the demand. You may check the current pricing options in the last tab of the job posting form page.
To post a job, first a company must submit it in the job posting page.
phpclasses.org/post_job.html
Then the job post must be paid before it gets published. For that the job poster must purchase job posting credits in a shopping page listed in the job posting page.
Currently the job posting credits may be paid using Paypal. You do not need to create a Paypal account to pay for job credits although that is recommended so you can easily track the payments you made.
Once the job poster has purchased one or more credits, he should return to the job posting page. There he must use the Post link to edit the job and post it.
* Urgent and regular job posting credits

Many companies need to hire PHP professionals now, as they have urgent needs. If a company does not have a real urgency, they may purchase regular job posting credits at a lower price than urgent credits.
The difference between urgent and regular job posts is that regular job posts are first notified to premium subscribers. These subscribers are users that purchased a premium subscription to obtain better site services like getting listed as a featured professional and be aware of non-urgent jobs sooner than other users.
Non-urgent jobs are notified to all other users after 7 days. Urgent jobs are published immediately to be available to all users at once.
* Premium job post discounts

Premium subscribers may also purchase single job credits with additional discounts if they want to post their own jobs.
More information about premium services advantages and how to purchase a premium subscription may be found here:
phpclasses.org/premium/
* Job recruiter bulk discounts

Job recruiters, also known as head hunters, are professionals that work on helping companies finding qualified professionals for their jobs.
It is often an hard working profession that may be very rewarding. In many places a job recruiter may earn from the hiring company an amount that is equivalent to the salary of 1 month or more of a successfully hired professional.
To succeed, job recruiter professionals need to post jobs in many job sites. To help these professionals the PHPClasses site is providing an option to purchase a significant number of job posting credits with an high discount. Currently these discounts are available in the purchase of packs of 10 job posting credits.
- Upcoming improvements

This is just an overview of the first release of this new PHP job board. Despite the development has been through a lot of polishing to make this a great PHP job board, there is certainly plenty of room for improvement.
One of the things that are planned is to have separate pages for PHP jobs available in different countries. These pages will also have separate RSS feeds, so you can keep track of new jobs only for your country.
A new PHP jobs widget will also be made available, so you can embed the latest PHP jobs listing in the pages of other sites. This widget will also be available in versions for each country.
One thing of interest for hiring companies and job recruiters is the ability to see statistics about the jobs they post. The site already collects statistics about how many users see a job post and which apply to the job. A new page will be made available to job posters, so they can see these statistics.
To complement the PHP job offering, it is being considered to syndicate jobs posted in other PHP job sites, so more jobs are made available to the site users.
Additionally the site will also repost jobs in other PHP job board sites if the job posters wish that.
For now, your feedback would be well appreciated. Regardless if you are a PHP professional, a company with available PHP job openings, or a recruiter with a lot of PHP jobs openings in hand, please feel free to post your comments to this article, so we can all help making this an even better PHP job resource.
You need to be a registered user or login to post a comment
Login Immediately with your account on:
Comments:
No comments were submitted yet.